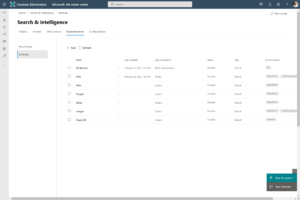 This week we shipped custom verticals and refiners on SharePoint content worldwide.
Search verticals only show results of a certain type or from certain content. Examples are Files or News. By default, Microsoft Search shows the verticals All, People, Files, Sites, and News. You can add search verticals that are relevant to your organization that represent content indexed with one or more Microsoft Graph … keep reading.
Vertical and filter customization on SharePoint content allows a Microsoft Search administrator to edit out-of-the-box search verticals, such as Files, Sites, News, etc., and create custom verticals on SharePoint content at the organization and site levels (tenant-scoped and site-scoped respectively).
For example, you can add an 'Author' filter to Files vertical to refine the results by one or more authors or a 'Modified' filter to the News vertical to refine the results by date created or modified and sort ascending or descending.
In the past, this level of customization has been limited to 3P verticals (verticals based on 3rd party data index-time merged with Microsoft Graph connectors).
With this new feature, you can create custom verticals based on SharePoint content (I.e. sites). Perhaps your organization is a legal firm, using custom verticals and filters with SharePoint content, you can create a dedicated search vertical where users can search by location, case type, retainers, etc.
In addition to creating these verticals and related filters, search administrators can also curate a vertical to narrow down results based on dynamic information such as location, user profile, etc., using query variables. Assuming the law firm in the above example is a MNC, a search administrator can use query variables to show results based on the users' location from their user profile.
Reade more > Source: Bill Bär /bɛːr/